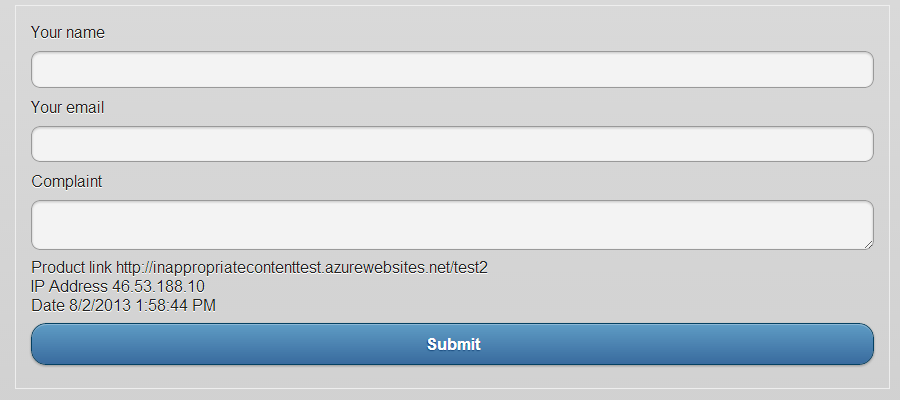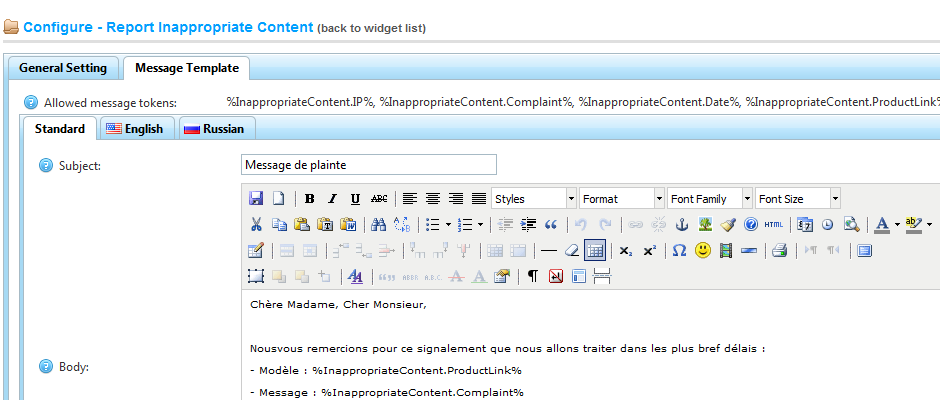 Project Description
Introduction
Zee3DCompany company operates an intermediation platform allowing downloading 3D printable models posted by their creators (designers). Despite moderation measures put in place, some inappropriate content, offensive or deemed as such, may be published without our knowledge. To facilitate reporting, an extension that allows users to report inappropriate content by filling out a complaint form was developed. The implementaion based on nopCommerce 3.0 (hosting on Azure) integrate and complement nopCommerce functionally. Multilingual plugin, "desktop" and "mobile" for its public part (following the paradigm implemented by the platform) were developed. User interface's public elements is fully customizable by CSS. The plugin was designed as a nopCommerce widget plug-in.
Functional description
Every product sheet contains an "Inappropriate Content" link leading to a form letting enter a text of complaint and the email address of the applicant (required and verified by a regular expression). The form is protected by a captcha and shows the IP address of the HTTP client and the time and date of the request. A successful validation leads the user to a confirmation page. A confirmation message, containing the text of the complaint, a link to the product sheet, the IP address and the time and date of the request, will be sent to the user's email address. A Bcc will be sent to the site administrator.
Administrative interfaces
The configuration page of the plug-in lets specify:
The location of the plug-in (the "Inappropriate Content" link) (ex. "productdetails_overview_top")
The nopCommerce email account sending the confirmation email
The email address receiving the Bcc
The use of a captcha to protect the complaint form (without effect if reCaptach hasn't been enabled in the " Security settings " tab of the " General And Miscellaneous Settings " page)
The following items is configured from the "Languages" page:
Wording of the link on the product pages
Texts of the complaint form and of the confirmation page
The "Message Template" page lets enter the message sent to the user (containing variables for including the text of the complaint, the IP address, the time and date of the request and the link to the product page).
Public interface
The link to the complaint page is displayed at the location designated in the plug-in configuration.
It is direct the user to the form and then to the confirmation page.
The user is receive a confirmation of his complaint by email.
Project Details
Date:
June 2013
Tags:
Latest Works
Mark's is USA most knowledgeable team of Plumbing Parts with 30 years experience and more than 1 million products online.
Kramer Electronics Russia. Professional switching equipment for the AV market. Online catalog and B2B platform.
New website for one of the largest new and used automotive parts supply in Lithuania